Varda Kotler soprano.








New Release: L'Heure Romantique
Varda Kotler, Israel Kastoriano


שיווק הליקון בישראל

Melodies from: PURCELL, MAHLER, SCHUMANN, BIZET,
CAPLET, RAVEL, BEN-HAIM,
BOSKOVITCH, CANTELUBE.
ARIAS FROM: MOZART, MEYERBEER.


Varda Kotler is a native of Tel Aviv and a graduate of the Rubin Academy of
Music at Tel Aviv University.
Varda Kotler's first CD Recital appeared in 1999 and the CD – "Melodies
londonienne" by Charles Gounod appeared in 2001 both by REM company.
The CD`s received good reviews in : Le Monde de la Musique, Repertoire,
Chronique Musical , Opera International, L`education Musicale.
The CD "Melodies londonienne" was selected by the prize Victoires de la musique
Classique for 2002.
The third CD "BEN_HAIM Melodies" was selected by the the prize Victoires de la musique classique for 2005.

Listen to music: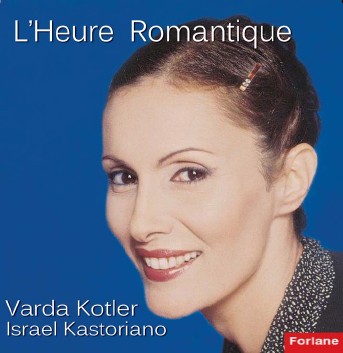 Read Reviews:
ביוגרפיה ורדה קוטלר